Congratulations to Hive Society's CSD Employee of the Month! Coach sets the highest expectations for student success – in the classroom and on the court. His players and students "win with class and lose with dignity." He gives positive, specific feedback, consistently. He teaches our kids to not only accept other's differences, but also to embrace and celebrate their own differences.
Wooten: "Embrace your differences. Don't lose that. That is something that makes you unique- not everyone is like that."
Coach Wooten was nominated by Tara McPherson and an anonymous colleague.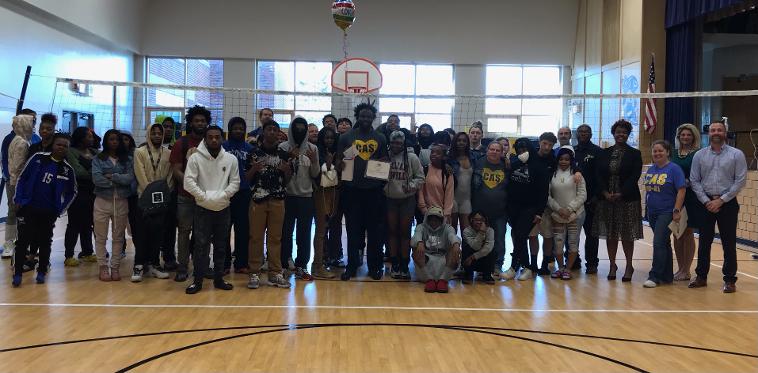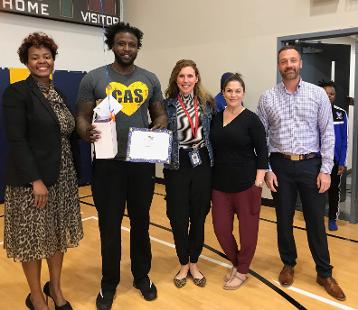 December: Someone that exemplifies our core value of: Lifetime community and family-centric relationships – this person is visible in our community, builds rapport with our families. This person has Center spirit!
We had so many great nominations this month, but this duo was nominated FOUR times by different people.
Congratulations, Jeannette Giangrosso and Monique Krivena.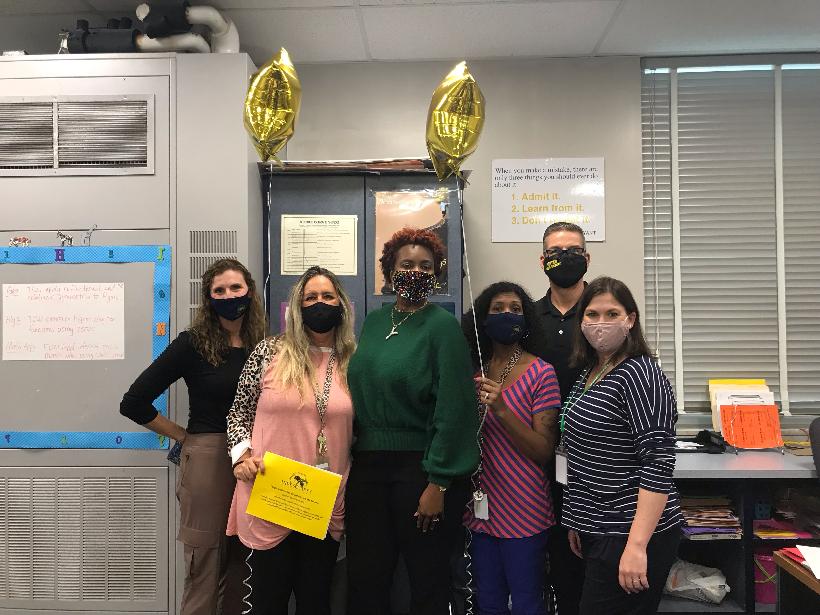 Monique and Jeannette are involved everywhere! These two ladies attend games, events, activities, everything! They build positive relationships with students and their families by staying engaged with the students, meeting them where they are at. During homecoming, these two ensured a selfie photo booth was up and ready, excitement for "PInk Out" and were competitors at the CHS Pumpkin Patch - with the kids increased excitement.
Monique and Jeannette continue a Friday morning tradition that was started by Brad Sweeten. On most Friday mornings, these ladies are up early and waiting at Chik-FIl-A to meet up with high school students who are eager to have breakfast with them before going to school. This means the students are up earlier than normal just to have breakfast with their teachers.
Always a smile on their face!
Monique makes all feel welcome and has that Center Pride!! She does an amazing job as Math Lead and makes sure her team is informed. She ensures that the SGA is getting all staff and students involved with Center, not only just at the high school, but throughout the district.
Mrs. Giangrosso is the epitome of Center spirit. She has taught in Center SD for so long in many different positions, is a pillar to the Student Government Association (along with Krivena), and has great relationships with current/former students & families of Center.
This power duo builds relationships with all students. They're always at events/games/etc to cheer on their students. They're constantly finding ways to be WITH their students, including breakfast bunch at ChickFilA where they invite students to join them for breakfast every Friday.
To nominate someone for January, click here: http://www.58fitness.com/hive-society.php
January: Someone that exemplifies our core value of "highly qualified, diverse staff" – this person is a leader among his/her peers, is a lifelong learner and respectful of differences. Real-world learning opportunities, problem solvers with fresh ideas and approaches.
September's Hive Society Employee of the Month is...
We asked staff to nominate peers in September who fit the description: September - This person celebrates the things that make us all unique. This person is intentional about including diverse perspectives and ideas in decision-making. This person embodies "diversity in our schools and community."
The CSD PREPARE Team voted on submissions and chose Ms. Jennifer Morris, Boone Elementary/Yellowjacket Early Learning Center, as September's Hive Society Employee of the Month. Dr. Cargile and peers surprised Ms. Morris with the award.
"Jenny is the first person we see in the morning and greets everyone with respect. She knows more about each individual's background than we can even imagine. With 300 kids here at Boone and another 100+ at YELC she makes sure to take a step back and recognize each individual for who they are. Jenny always goes above and beyond to help students feel needed, loved, and accepted for whatever background they bring. She is always trying to come up with new ideas in inclusiveness and is always ready to bounce ideas off of one another to make sure everyone is accepted. Jenny is a one of a kind, on the go, never misses a beat, there when you need her and makes sure you feel heard, accepted, and are safe!"