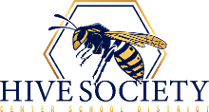 Hive Society is dedicated to enhancing our climate and culture by recognizing the caring individuals committed to fostering belonging and connection in the Center family.
Please help us acknowledge the incredible gifts our colleagues bring to Center School District. We'll choose one district-wide nominee each month to honor in a BIG way.
Check out past winners here.